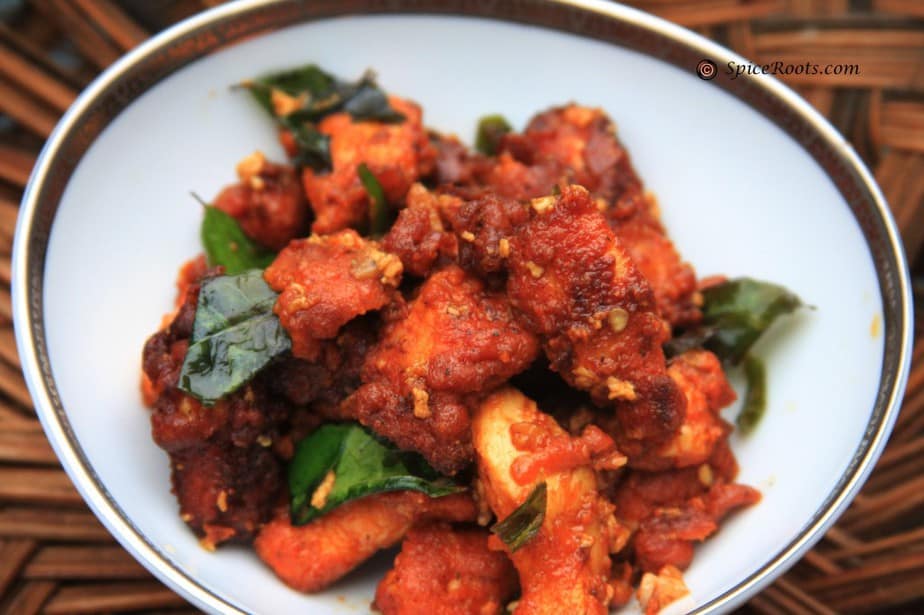 "Food is not about impressing people. It's about making them feel comfortable."
–          Ina Garten, 'The Barefoot Contessa Cookbook'
"Food is not about impressing people, it's about making them feel comfortable." Ina Garten
And comfortable they do feel with this fiery dish. The crescendo of the stir frying chilies, curry leaves and garlic is always a conversation stopper; and not in a bad sort of way.  It just moves people, the way musical crescendos do and then like any great piece of music, it reaches the climax. The spicy aroma of chicken 65 drifts about, people gather around and the party begins. Compliments galore, happy  –  smiling friends, satisfied taste buds. Secret Recipe?  Lots of love and the following ingredients :-
Serves 4-5
Plan:
Chicken: 1 pound boneless thigh meat cut into 1"- 2" pcs
Greek Yogurt: 2 Tbs + 2 Tbs (whisked)
Corn starch: 2 Tbs
Ginger Garlic Paste: 2 tsp
Red chilli powder  : 1 tsp
Cumin powder – ½ tsp
Coriander powder : ½ tsp
Cinnamon powder : ½ tsp
Garlic : 2Tbs sliced thin
Curry leaves: 8 – 10 (washed and patted dry)
Peanut Oil  : for deep frying
Lemon Juice: 2 Tsp
Egg  : 1
Salt  : As per taste
Rice Vinegar – 1/2 teaspoon
Thai Green chilies  : 3 – 8 ( julienne super thin)( 3 being hot and 8 fiery fiery hot – use less than 3 for a mild hot)
Procedure :
In a deep bowl, mix yogurt(2tbs), red chili, cumin, coriander, cinnamon, ginger-garlic paste and salt
Mix in the lemon juice and add  the chicken pieces
Now add the corn starch to coat all the chicken pieces.
Beat the egg lightly and add it in and mix well.
Allow to marinade for at least 30 minutes and up to an hour max.
Heat the oil in a wok to a scalding 350*F (175 C)
Turn the heat to medium high, add a few pieces of chicken at a time.
Take care not to over crowd the wok.
Cook until the chicken turns a nice shade of brown and reaches an inner temperature of 165F.
Fish out the fried chicken with a slotted spoon and allow to drain on a tray lined with paper towels.
Repeat for the remaining pieces.
In a different wok or pan, add a tsp of oil ( you can use the hot oil from the frying wok)
Add in the curry leaves, let them sizzle
Add the garlic , let it sizzle n cook but not burn
Add the thai chillies and sizzle sizzle sizzle they go
Add the vinegar and the yogurt and keep stirring until the liquids sort of mix in
Add in the fried chicken
Stir, transfer to a plate, and serve with lemon wedges and onion rings.
And your Chicken 65 is ready to shine.
Notes :
1) Chilies vary in pungency at times, so use caution while adding them.  Sometimes a couple of them can make a dish really hot. I usually chop the tip off and carefully take a whiff. The strong pungent ones smell strong and pungent from a distance. So there! Use caution and experience and your instincts.
2) Remove the white membrane carefully if you do not want your food too hot
3) Never touch slit green chilies with bare hands. Use food safe gloves or a food scraper to transfer them from the chopping board.