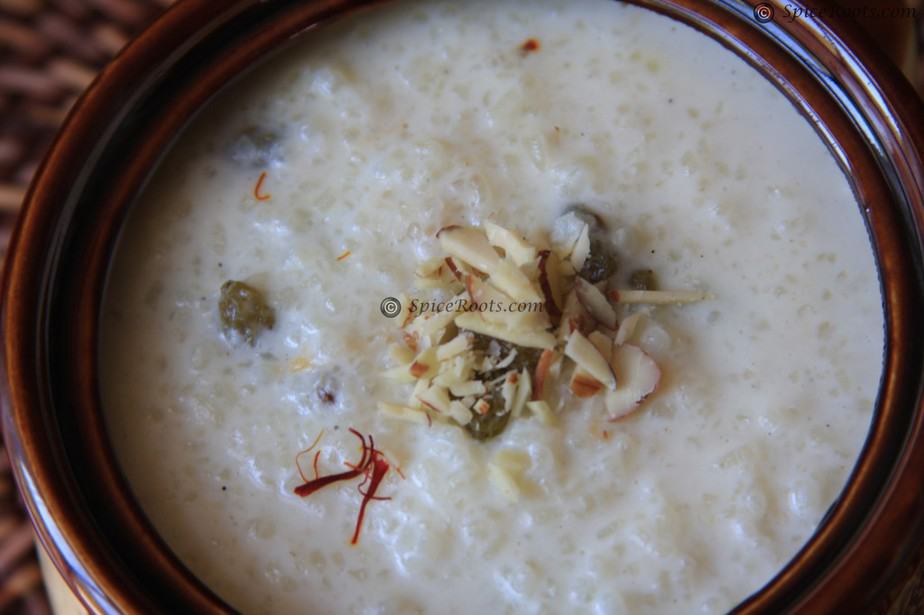 Lustrous and pearly! Rich and Creamy! Velvety sugary goodness! Kheer.. Must be the food of The Gods and maybe that's why it is offered to them whenever we feel thankful, lucky, and joyous. There is no reason why it wouldn't be the food of Gods- It's Cooked with tender care on low simmering fire with gentle stirring now and then. It is magic to see the rice and milk come together in such unison. You can tell one from the other, but you cannot separate them. Delightful harmony!
Here is how you can recreate the magic in your kitchen and feel happy.
Plan:
6 C        whole fat Milk
¼ C        Rice (white preferably- soaked for 30 minutes in warm water)
Sugar    As per taste . ( I used 22 cubes of sugar)
½ tsp     cardamom powder
1 tbs      sliced almonds
2-3 Tbs Raisins (preferable the green variety)
A few strands of saffron
Procedure:
Now I know a lot of people stir fry the rice in ghee before they make kheer. I don't. I do not find any difference in taste with this additional step. It could be me.
Here is how I do it and it does take a whole lot of time, but the results are worth it.
Bring milk to boil on medium heat in a heavy bottom pan. Add in the rice.
The temperature will drop slightly and so you will need to wait and bring it the milk and rice mixture to boil again
Stir tenderly to ensure the rice or milk do not stick to the bottom of the pan.
Put the heat on low/ simmer and go do what you need to do. But ensure to set a reminder to stir the kheer every few minutes.
In about 30 – 45 minutes you will see the milk and rice coming together. The rice starts to get cooked.
But what you need is the rice to start cook further and come to its pearly center. So you put the heat to a real low and cook further and stir often.
Now you should be able to see little pearls of rice and the milk and rice should be one homogenous entity. At this point add the sugar and cardamom.
I add sugar cubes, but you may start with ¼ cup of sugar and work your way up according to how sweet you like it.
The milk and rice mixture will look a little thinner now. That's ok. It's the sugar melting.
Add the almonds and raisins. Stir and cook together until the mixtures come to your desired consistency. Usually a good kheer is neither runny nor thick. So there… I helped! Didn't I 🙂
Allow to cool in a serving dish. Add the saffron to leave hints of a saffron trail in the dish without making it too yellow.
Enjoy warm or cold