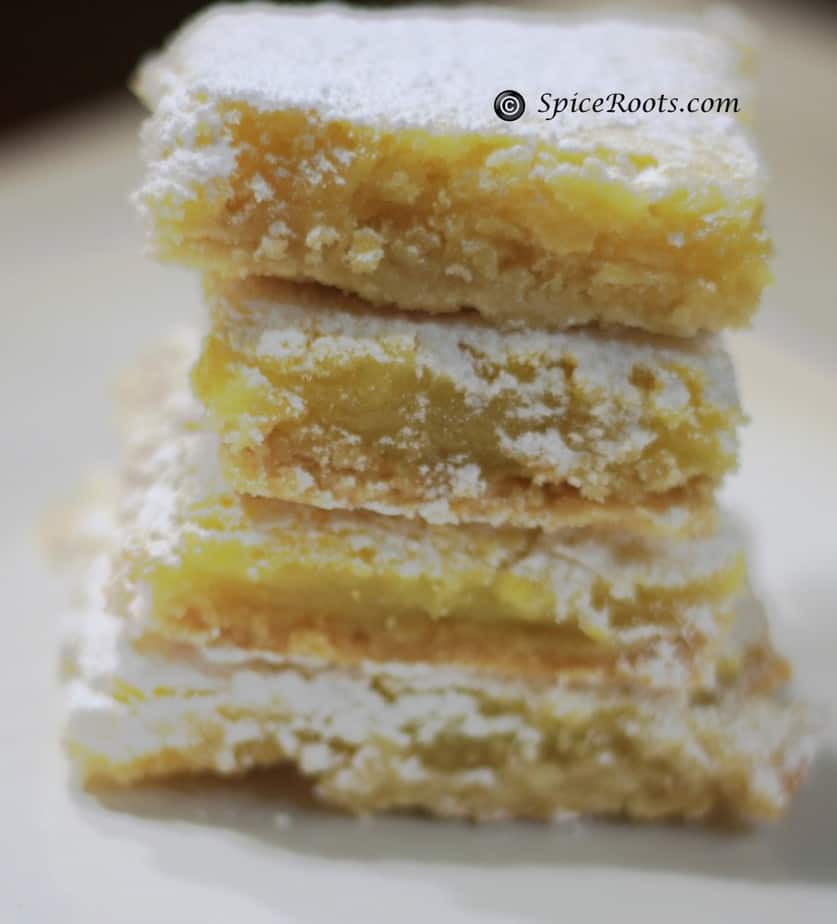 It was one of those cold winter evenings, when you are casually strolling in a cute little town that has deliciously inviting cafes lined up and you can't help but end up in one of them and ask for a Latte. And suddenly, your eyes wander to the cleverly placed confections and cakes and other goodies and you think, why not! You ask the better half if he would be willing to share a bite of the goodies with you and you go ahead and order it with the Latte.
You dig into the lemony, sugary goodness and despite your promise of sharing, you end up stealing more bites of the thing than the guy and he is smiling amusingly at you. And why not! After all you are the one to declare to the whole world that you don't have a sweet tooth. But here you are, eating copious amounts of a lemon bar and not even sharing. So you let the guy smile his amusing smile and keep noshing.  Yes! It was one of those days – the ones on which you wonder how you had been living on this planet without ever having indulged in a lemon bar.
The day turned into the night, and the lemon bar was justly and completely consumed. But the thought of how it was made consumed me for a few days.  A few Internet searches later, I zeroed in on a couple of recipes to try.  After a few trials, I still had not found THE one. Oh ! Was it a slippery One!!
Then I tried Ina Garten's recipe from the Food network. A few adjustments later, I had finally found the magic called lemon bars. The birds were chirping again and the sun was shining. Everything was right with the world.
Ingredients
For the crust

200 gms unsalted butter, at room temperature
1/2 cup sugar [ fine sugar]
2 cups flour- white
a pinch of salt

For the filling-

6 large eggs
2 ½ cups sugar
3 Tbs lemon zest
1 cup lemon juice
1 cup flour
powder sugar, for dusting on top
Instructions
Make the Crust

Preheat the oven to 350 F
While the oven is heating, Cream the butter and sugar, until light and mixed thoroughly.
Mix in the flour and salt and add to the butter and sugar mix. Mix it until it looks crumbly. Do not over mix.
Bring the dough together into a ball and place onto a 9 by 13 by 2-inch baking sheet lined with parchment.
Flatten the dough until it covers the entire sheet and builds up a 1/2-inch edge on all sides.
Chill the pan along with the dough for15 minutes
then Bake the crust for 15 to 20 minutes, until very lightly browned. Let cool on a wire rack before filling

Make the Filling –

Whisk the eggs with sugar, lemon zest, lemon juice, and flour.
Pour this mix over the now cooled crust and bake for 30 to 35 minutes, until the filling is set. Remove and let it cool completely before cutting.
Cut into desired shape and dust with powdered sugar.
3.1
(function(d, s, id) {
var js, fjs = d.getElementsByTagName(s)[0];
if (d.getElementById(id)) return;
js = d.createElement(s); js.id = id;
js.src = "//connect.facebook.net/en_US/all.js#xfbml=1&appId=247899178631715";
fjs.parentNode.insertBefore(js, fjs);
}(document, "script", "facebook-jssdk"));