Nan Khatai – Indian Shortbread cookies are not shortbread cookies in the real definition of the word. But saying light and crispy, yet flakey and utterly buttery and melt in the mouth cookies sounds like a mouthful. Which after a few bites of the Nan Khatai is simply not possible.
My Naani ( Naani is how you address your grandmother on your mom's side) got me hooked to Nan Khatai. She knew all the right bake shops that sold the best Nan Khatai and she would stop by every few days and place an order for special ones. You may ask if they were the best shops why would she place an order for special ones? That's because she would carry a pot of home made ghee and bring it to the store and ask them to use it in the order she just placed. She has a gentle demeanor that disarms even the non-indulgent kinds. The chefs would see her arrive and grin wide and ask her how many of the nan khatai biscuits she wanted. Biscuits – because we are still British in our use of English, though they way it's pronounced in most of India – BisKOOT may not be understood by the English speaking English.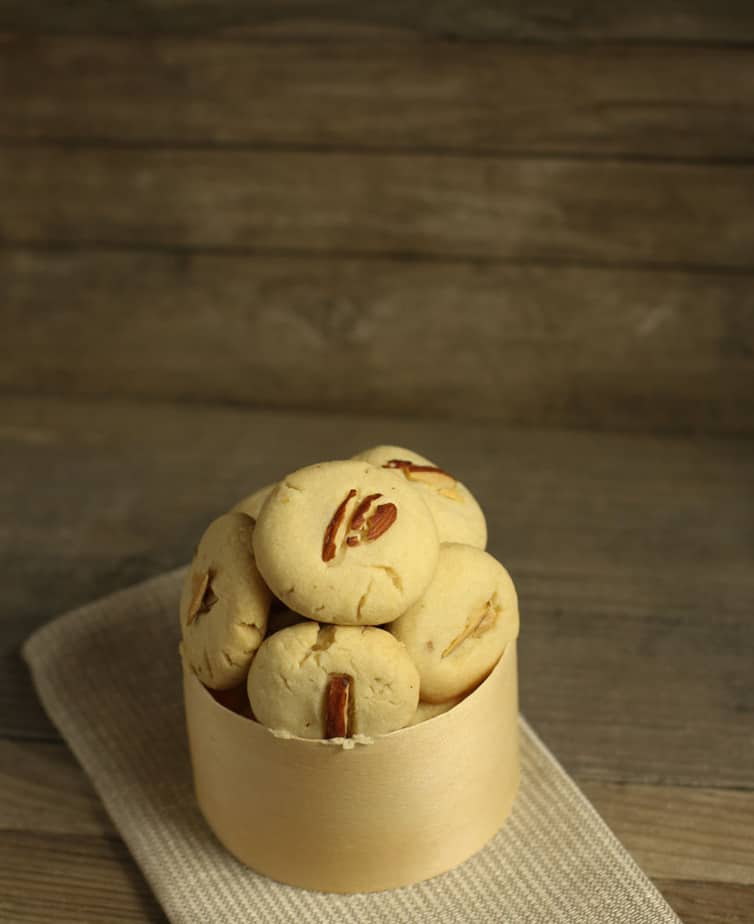 Made with fresh, homemade ghee and catered to our taste, they were melt in the mouth, divine rounds of cookie goodness. Really soft to touch, they have an outer crunch, feathery soft interior that falls into the mouth and you close your mouth and it simply melts and vanishes. I never found them anywhere else in the country. Though every region has its nan khatai, the ones from Jammu are my favorite. It could be because of the memories attached to it or it could be because they simply are divine.
To put the theory to test, I made two batches of Nan Khatai today for the Creative Cookie Exchange. The theme this month was Pack for a picnic cookies. Basically cookies that won't go bad, get soggy or hard if kept in less than ideal conditions. Nan Khatai fits the bill perfectly as they are made with ghee that has a better shelf life than butter. They are not easily spoiled, stay fresh for days and are just delicious.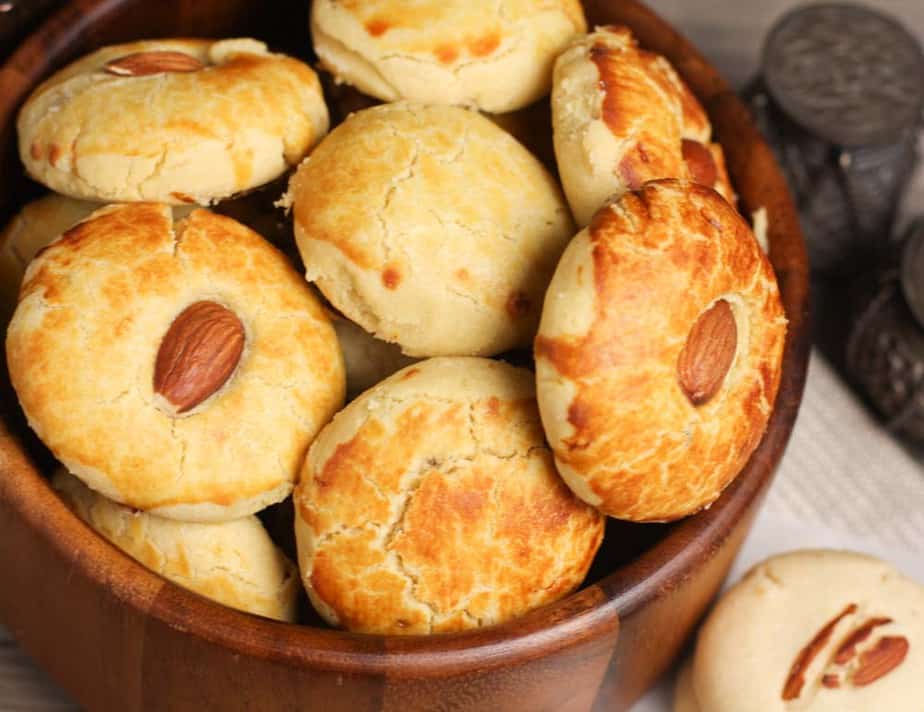 The two kinds of Nan Khatai I made were blind taste tested by the in house taste tester. He picked the Jammu one over the other. Though both the cookies taste great, there is just something about eating food that has memories that makes it taste special.
You can try one or both and let me know which one you preferred.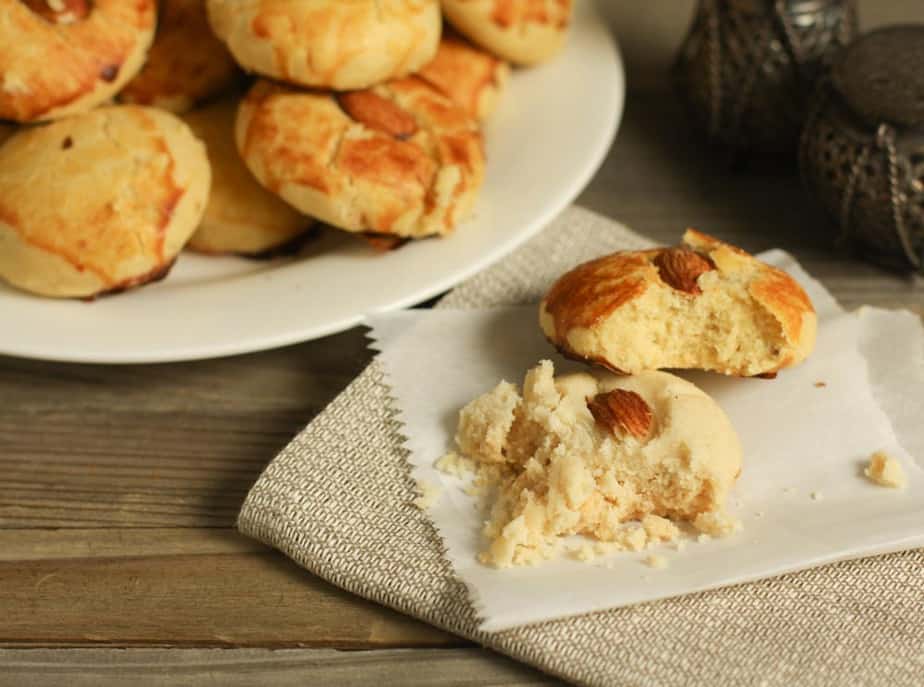 The theme this month is Pack for a Picnic Cookies–any kind of cookie that sounds great for a picnic! If you are a blogger and want to join in the fun, contact Laura at thespicedlife AT gmail DOT com and she will get you added to our Facebook group, where we discuss our cookies and share links.
You can also just use us as a great resource for cookie recipes–be sure to check out our Pinterest Board and our monthly posts (you can find all of them at The Spiced Life). You will be able to find them the first Tuesday after the 15th of each month!
Also, if you are looking for inspiration to get in the kitchen and start baking, check out what all of the hosting bloggers have made:
Naan Khatai – Indian Shortbread Cookies #Creative Cookie Exchange
Ingredients
1.5 C flour
1/2 tsp baking soda
1/4 tsp green cardamom powder
a small pinch of salt
Optional - almond slivers for garnish
1/2 C sugar ( If you don't live in the US.. look for baker's sugar or coarsely grind your sugar)
1/2 C ghee, room temperature that looks a little melty
Instructions
Preheat the oven to 350*F
Mix the flour, baking soda, cardamom powder and salt. Keep aside.
Cream together the ghee and the sugar
Add in the dry ingredients and mix very briefly until the dough comes together
Take 2 tbs of the dough and roll it and then press it down to flatten it. Keep it on a baking tray lined with parchment paper.
If using almonds, put those slivers on the cookies and press down
Bake for 10 - 15 minutes. The cookies won't brown on top so check after 10 minutes to see if the bottom has browned a bit. You don't want to over bake these.
Remove from oven and allow to cool before transferring to a wire rack to cool completely.
Notes
This is the recipe for the Jammu style Naan Khatai. To make the Pakistani style Nan Khatai, swap 1/2 C flour with garbanzo bean flour and follow the same procedure.
http://dev.spiceroots.com/naan-khatai-indian-shortbread-cookies-creative-cookie-exchange/