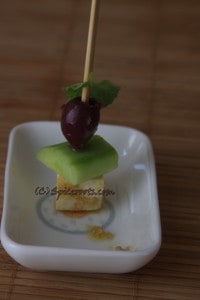 Feta cheese ? The curd cheese with the brine flavor? yes!! That's the one featured in this recipe. I love this very salty,briny cheese. When served with olives and fennel sauce this makes a very tasty combination. Olives with Feta Cheese and cucumber is one of my go to recipes when I have an unexpected guest arriving. Pop open a jar of olives and cut some feta into cubes and skewer on.
Plan:
appetizer skewers (6)
washed and dried mint leaves (6)
Olives [6]
Olive oil – 1 tsp
cucumber slices with seeds removed [6]
feta cheese cubes – [6]
fennel seeds crushed [1/2 tsp]
Zest of lemon – 1/2 tsp
Advance Prep:
cut out even sized cubes of feta cheese from a block of cheese.
peel off the cucumber skin. slice it lengthwise in two, scrape out the seeds with a spoon.  Cut out six portions proportionate to the feta cubes.
To zest the lemon use a Microplane  grater . Rub the lemon in one direction against the grater. Turn the lemon as you go to remove  the yellow part which is the zest. Ensure you do not get the white parts as they are bitter.
Procedure:
Heat a small pan on medium heat.
Add the oil, fennel seeds and stir for half a minute.
Toss in the lemon zest.
Switch off heat and let the mixture cool.
Put the feta cubes in a zip lock bag and add the olive oil , fennel and zest mix.
Give a rigorous shake to the ingredients so they mix well.
Refrigerate for an hour and then assemble.
Thread in the mint leaf on the skewer, followed by olive, then cucumber and the cube of feta cheese.
Note :
1) You may or may not want to add any seasonings like salt and pepper at this point. For me the salt from the feta cheese and olives is usually enough.