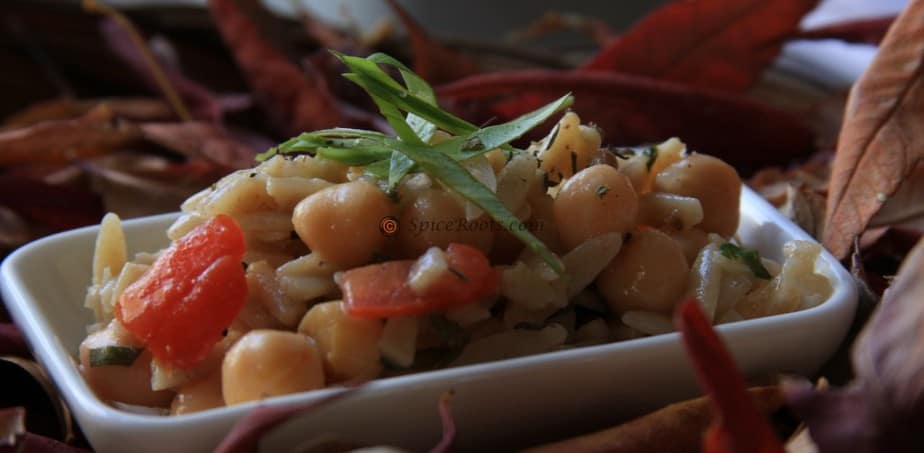 Whole wheat orzo, buttery garbanzo, aromatic olive oil and a touch of herbs and spices- all together as a salad! A quick to make and equally quick to eat deliciousness.
I would like to say that this recipe is open for interpretations. Add in more stuff like grilled chicken or pan seared fish, or (grilled tofu for a vegan/vegetarian  dish)  change the combination of herbs but do try making it.  It is a nutritious recipe and makes for a great work lunch. I used canned garbanzo beans for this recipe.
Plan:
1 C                       rinsed garbanzo beans
¼ C                     diced tomatoes
2 Tbs                  finely chopped shallots
2 tbs                   olive oil
1 tbs                   basil Chiffonade ( make this just before serving)
½ tsp                 ground black pepper
2 C                      al dente whole wheat Orzo
1 tsp                  dried oregano, thyme and mint (all dried  … all together)
1 tsp                   lime juice
Salt to taste
Procedure:
Here is the fun part.
Shake together-  salt, pepper, lemon and olive oil to make a vinaigrette
Mix the garbanzo beans, tomatoes, shallots and orzo.
Stir in the dried herbs, and the vinaigrette
Cover and allow to stand for at least 30 minutes
Serve with the basil chiffonade.
I also add toasted sesame seeds tot he dressing for a nutty crunch!~ enjoy!