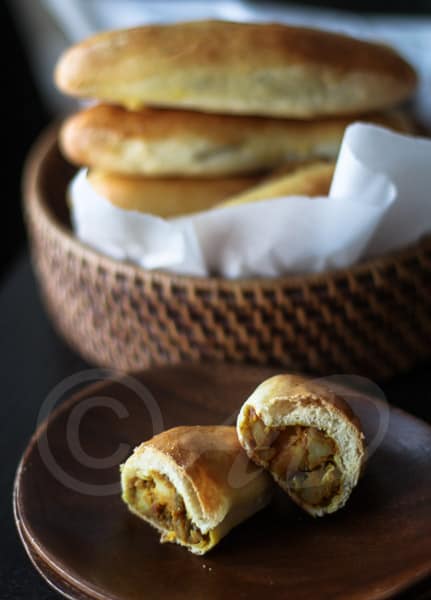 "Winning is not a sometime thing, it is an all the time thing. You don't do things right once in a while – you do them right all the time."
 Vince Lombardi
On our recent trip to Seattle's historic Pike's place Market, our friends recommended that we try out the Piroshky from the Piroshky Piroshky. We readily and greedily agreed and put it at the top of our list when we visited the market.
The day was warm and sunny. Oh yes! We did get sunshine and warmth in the middle of a Seattle winter. So we set out to visit the market and stopped by this little shop. There was a long queue, but it moved pretty quickly. The aromas wafting from the shop were making us hungrier by the minute.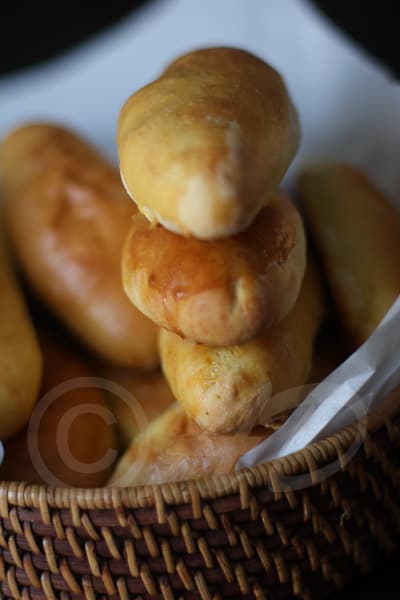 As we had indulged in some delectable croissants for breakfast, We settled for savory Piroshky. It really was hard to not overindulge in the delicious pies. Did I just say pies? Yes!  Piroshky or Pirozhki  is a small pie originating from Russia. Made with a yeast based dough and usually with a filling, these are great as a snack. The fillings can be savory, sweet, meat, vegetables or a combination meats and veggies. And you can either fry them or bake them.
I wanted to recreate the yeasty ball of goodness in my kitchen and ended up making my own concoction for the filling. I did however adapt my dough recipe from this very beautiful looking Piroshki that the talented Yelena Strokin shared on her blog :-  Cooking Melangery .
These are going to be featured on my coffee table come this Sunday when the Broncos play against the Sea Hawks in the Superbowl XLVIII. Of course the boys are going to bring the Vince Lombardi Trophy home! We will sit back and enjoy the game with some finger food and the Piroshky are a perfect game food. Did I say sit back? OK.. we will not be sitting back.. it wouldn't be a Super Bowl if the hearts did not skip a beat or two and we didn't shout at the TV and offer unsolicited advice to the boys to get it right and applause with all fervor when they do something right – like score a touchdown. Well you know the drill.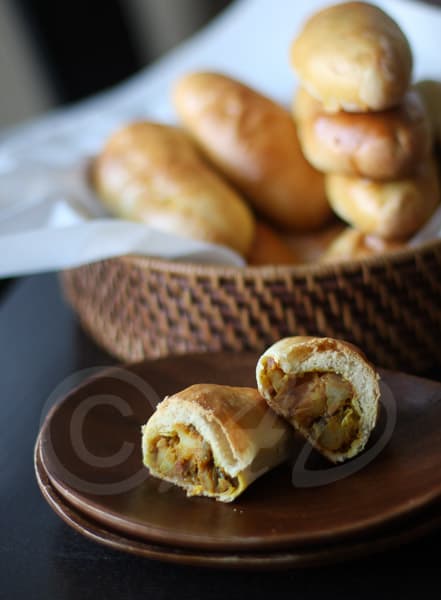 The best thing about the Piroshky is that you can make them ahead of time and just enjoy the game! #UnitedinOrange! #Go Broncos!
Piroshky – The Russian Baked Stuffed Pie
Ingredients
Dough

4 C Flour ( all purpose)
1Tbs Vital Gluten ( optional)
2 tsp active dry yeast
2 Tbsp sugar
1 cup whole milk
2 eggs
4 tbs oil
1 tsp salt
Egg wash for brushing on

Filling

2 Cups Cabbage chopped
1/2 C onion
6 medium gold potatoes,Boiled, peeled and cut into cubes
2 tbs coriander powder
2 tbs cumin powder
2 tsp red chilli powder
1/2 tsp turmeric powder
1 tsp dry dill
1 tsp salt
1 – 2 tbs oil
Instructions
Make the Dough

Heat the milk to a 100*F .
In the bowl of a stand mixer fixed with the dough attachment, add in the yeast, sugar, flour, vital gluten and salt.Stir to combine, add in the oil and the egg and keep stirring.
Add in the milk and knead until a soft dough ball forms.
Cover and allow to double in size – about an hour.
In the meantime :-

Make the filling

Heat oil in a large pan and sauté the onions until slightly pale.
Add in the cabbage and cover and cook for 5 minutes on medium heat.
Add in salt, all the spices, the dill and the potatoes.
Stir to combine. Continue to cook for another 10 minutes, covered on medium heat.
Stir every once a while to ensure even coating of the spices on the potatoes.
If the vegetables stick to the pan, sprinkle a little water and continue cooking for the whole 10 minutes.
Allow to cool before proceeding with filling the Piroshky.

Fill the Piroshki

Make about 30 dough balls from the dough after punching it down.
Cover and let these rest for another 15- 20 minutes.
Flour the working board. Roll each dough ball into an elongated oval shape and fill the center with the now cooled veggie mix.
Be sure to leave space on the sides.
Carefully pinch the opposite sides together to seal the edges and form the pie.
Keep the dough balls covered while you are working with the rolling and filling and keep the filled pies
on a baking tray and cover them until you shape enough to fill the tray.
Brush with the eggwash and Bake at 375* for 20 minutes or until golden
3.1
(function(d, s, id) {
var js, fjs = d.getElementsByTagName(s)[0];
if (d.getElementById(id)) return;
js = d.createElement(s); js.id = id;
js.src = "//connect.facebook.net/en_US/all.js#xfbml=1&appId=247899178631715";
fjs.parentNode.insertBefore(js, fjs);
}(document, "script", "facebook-jssdk"));