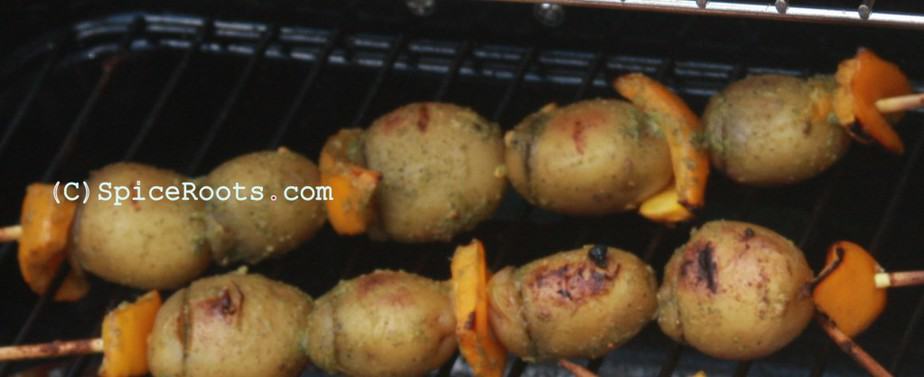 With a little prep, these  Stuffed Tandoori Potatoes come together in a jiffy when you are hosting a Bbq. They are delicious as a side dish and if you want to make them for your vegan friends, replace heavy cream with some coconut oil. Most often these are the first ones to vanish when I make them for my parties. These also make great addition to a salad if you have some leftovers. Just add in some cheese on top, a few greens of your choice along with onion rings and tomatoes and you have yourself a tasty salad to take to work.
10 Baby potatoes
2 Tbs raisins
2 Tbs walnuts – chopped
4 tsp coriander mint chutney
1/2 bell pepper (any color), diced in squares
2 Tbs heavy cream
1/2 tsp ginger- green chilli paste
1/2 tsp tandoori spice powder
Advance Prep :
soak a few bamboo skewers in water for a few hours or overnight
Wash the potatoes well.
Procedure:
Fill a pan with water and bring it to a rolling boil
Add the potatoes, cook for a few minutes, until tender  but not overcooked
Drain and let it cool slightly
Slice the top of the potatoes (almost 1/4th part of the potato)
Using an apple corer, core out some of the potato from the bigger part of the potato, making a cavity inside
Ensure you do not core it through and through
Mix the raisins, chutney, walnuts and some of the scooped out potato
Fill this mixture into the hollow of the potatoes
use the sliced tops as caps and thread them on to the skewers along with the bell peppers
Mix the cream, ginger green- chilli paste and the tandoori spice powder.
Brush it thoroughly on top of the Potato skewers
Grill on a charcoal grill preferably on medium heat until the grill marks appear.
Serve as an appetizer with mint and cilantro chutney. This recipe can serve 5 – 10 people based on portion sizes.