Hi you guys! Yes, I am back. It's been a while since I blogged and what better way to get right back in than with some delicious sugar cookies dressed up in Henna motifs. These henna cookies are in fact my first try with doing anything remotely artistic. I have never been a very artsy person. So doing these cookies was a huge deal for me because I needed to see for myself if :- 1)  I would have the patience to sit through a few steps of decorating  and 2) if I could finally dabble in the art of henna designs. Well I succeeded with the first. The second ? Well let's just say I need more practice.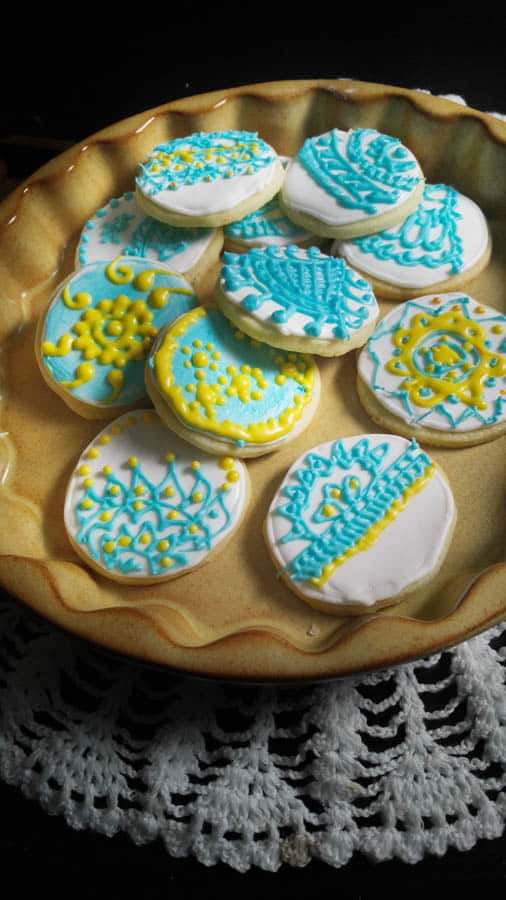 I do however have a wonderful rolled sugar cookie recipe for you and a couple of techniques that you can use to decorate your cookies. And I am sure you guys will be better at making the designs and have more success than I did.
Let's talk a little about the rolled sugar cookies. You need a cookie dough that's strong enough to withstand multiple rollings and at the same time produces a cookie that is tender. So work with everything chilled especially the butter. It not only enahnces the tenderness in the baked product but also does wonders for the dough for it's durability. Also using cake or pastry flour will result in tender cookies. But if you don't have cake or pastry flour, just add about 5 grams of corn starch to the flour.
So here we are with the creative cookie exchange since the holidays are coming–and everyone loves decorated cookies during the holidays, so we've got you covered! Time to get your baking on
You can also use us as a great resource for cookie recipes. Be sure to check out our Pinterest Board and our monthly posts (you can find all of them here at The Spiced Life). You will be able to find them the first Tuesday after the 15th of each month! Also, if you are looking for inspiration to get in the kitchen and start baking, check out what all of the hosting bloggers have made:
You can also use us as a great resource for cookie recipes. Be sure to check out ourPinterest Board and our monthly posts (you can find all of them here at The Spiced Life ). You will be able to find them the first Tuesday after the 15th of each month! Also, if you are looking for inspiration to get in the kitchen and start baking, check out what all of the hosting bloggers have made:
Henna Cookies #CreativeCookieExchange
Ingredients
400 g pastry flour/ cake flour
250 g cold butter, unsalted diced into small cubes,
250 g baker's sugar
1 tsp  salt
4 egg yolks
1 tsp vanilla extract

Royal Icing

2 egg whites
1# powdered sugar
1/8t. cream of tartar
2-3 drops lemon juice
Instructions
1. Sift the flour mixture through a fine mesh strainer once, then gently set aside.
2. Using a mixer fitted with the paddle attachment, cream the butter, sugar, and salt on medium speed for about a couple of minutes.
3. Scrape down the paddle and the sides of the bowl. The butter will still be cold and you will have to use strong hands. Mix again for a minute and then scrape it down again.
4. Add the flour, mix the dough on the lowest speed, just until the dough comes together. Add the egg yolks and vanilla extract, and continue mixing on low speed until the dough is smooth and even.
5. Gather the dough together and divide into two parts and pat down into a circle. Cover in cling wrap, twice over and transfer to the refrigerator to chill for an hour at least.
6. Roll each part to a ¼-inch thick sheet.
7. pre heat your oven to 350°F. Lightly dip your favorite cookie cutter in flour, tap any excess off, and stamp your cookies. Transfer the cookies to a sheet pan lined with parchment paper.
8. Gather up the scraps of the dough and roll the dough back out to ¼-inch thickness, and cut more cookies. Continue one or two more times until the scrap is too small to cut any more cookies.
9. Bake the cookies for 4- 6 minutes. Rotate the pan front to back to promote even baking, then bake your cookies for 6­ more minutes, until cooked through. Total baking time = 10 to 12 min or until done.
9. Set the sheet pan aside on a wire cooling rack. Let the cookies cool before decorating them with royal icing.

Royal Icing

Sift powdered sugar
Combine all ingredients in an electric mixer with paddle until white and fluffy about 4 minutes.
If mix is to thin add more powdered sugar, to stiff add egg white
Cover airtight until ready to use
http://dev.spiceroots.com/henna-cookies/