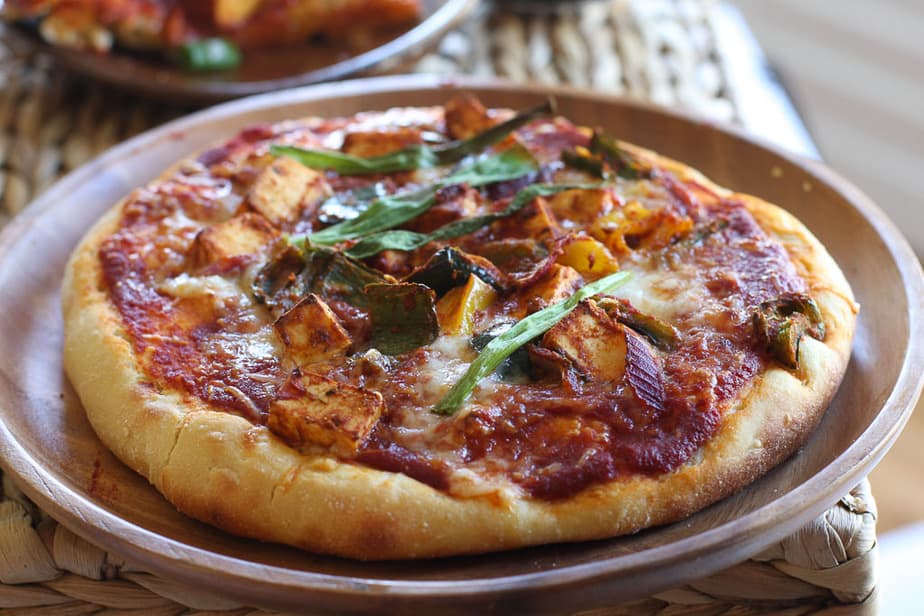 I have been making a tandoori paneer pizza for a long time now and as it turns out, I prefer to make  these on a tortilla base or using the quick and easy Yeast from Fleischmanns. Because ideally making a pizza should be as easy as easy . Don't you think? For the purists, I do have the perfectly matured, slow raised, proper pizza crust recipe.. but that is a story for another day.  Today's story is about a delicious East meets West and creates magic kind of pizza.
A while ago my friend Karen from Savoury Table told me that she thought my Naan recipe was good for a pizza base too. She had tried it and liked it. In all matters of food, I really do trust her. So I thought about giving it a try.  I knew that my tandoori paneer pizza rocked, but with the naan recipe as the base, it was outstanding, If I may say so myself.  I have found my new favorite way of making pizza and it is going to stay a favorite for a while in the Spiceroots household.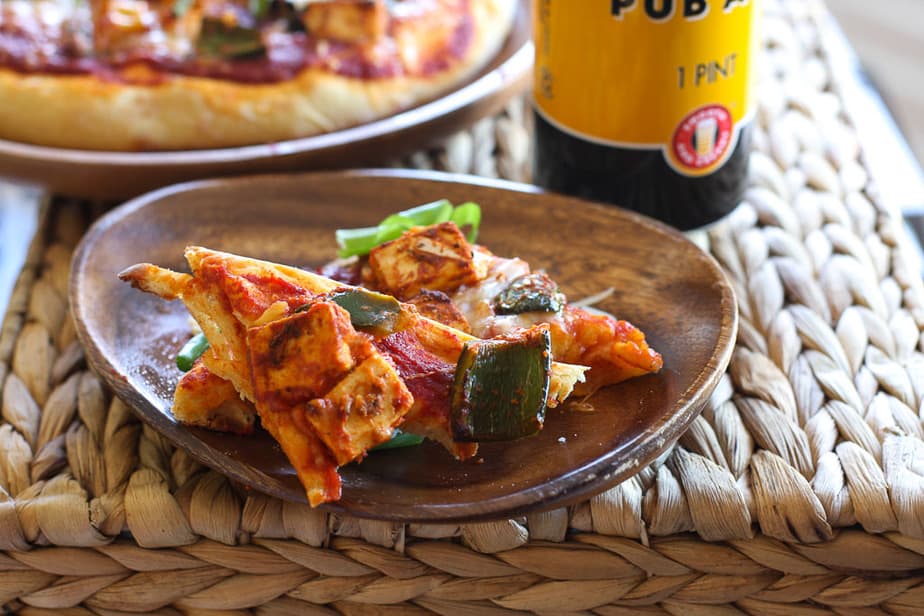 For this week's Football sunday, I could not think of a better Football food than the spicy and delicious tandoori paneer pizza. The best part is that is goes perfectly with my favorite ale Boddingtons  . Sundays are made for Pizza, Ale and Football. Now if all the work would take care of itself, life would be perfect!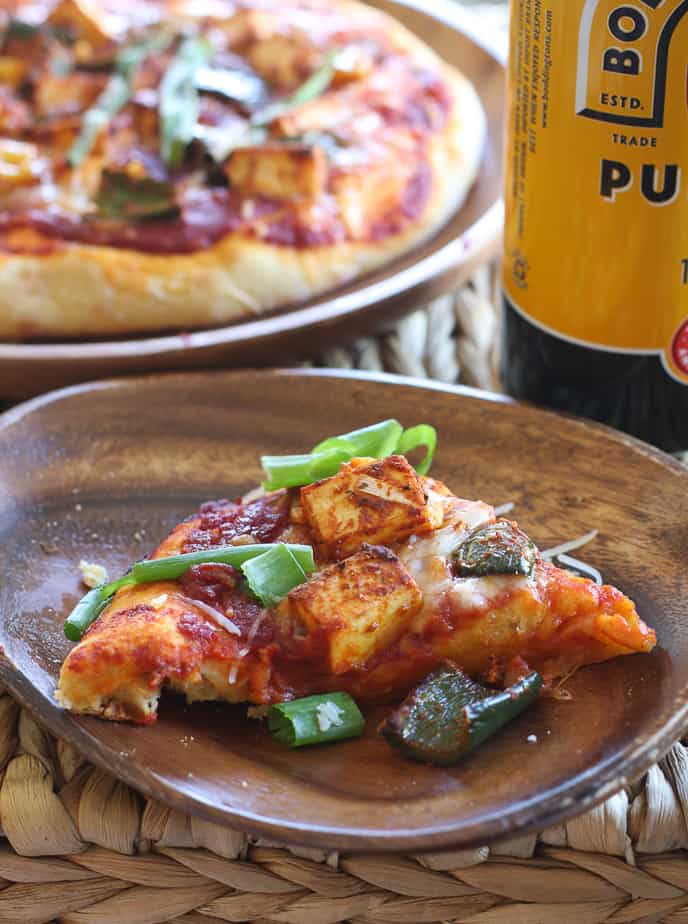 Helpful tips :-
When making a dish with store bought paneer that is frozen or refrigerated :-
1. Cut it in desired shapes and sizes and bring some milk and water mix to boil. Add the paneer and let it soak in this mix for about 30 minutes. This is an extra step but it makes the paneer softer and also brings out a fresh taste.
2.Cook it for a short time.  Overcooking the paneer makes it dry and a dry paneer is unappetizing.
For this tandoori paneer pizza, I also made a tomato sauce from scratch. Well almost from scratch. I cheated and used bottled tomato paste. But when the label says only tomatoes, I prefer to think of it as minimally processed. Some processed foods are convenient and necessary, especially if you have not had a chance to can your own tomatoes. I really like the tomato paste from Bionaturae, because the "long" ingredient list says : organic tomato paste. And I know what all the three words mean. So there!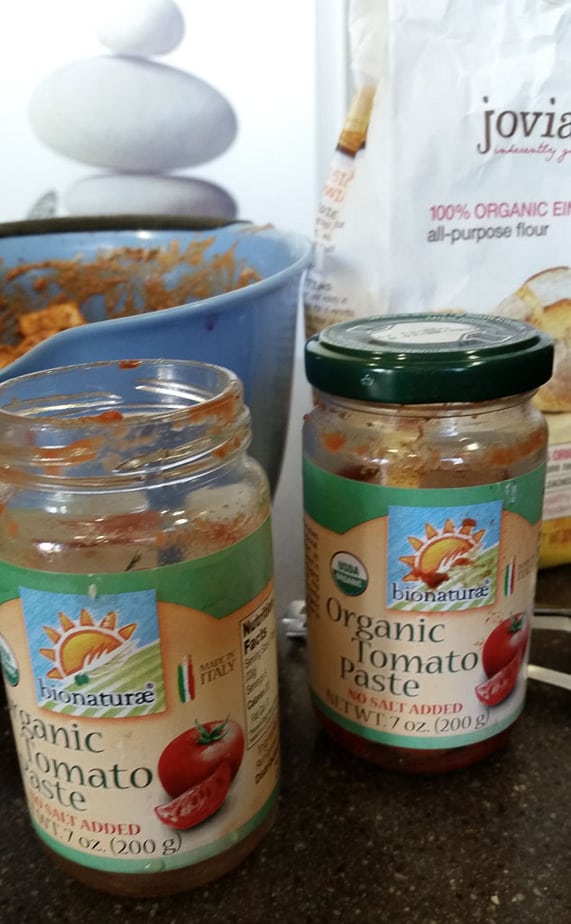 I am also going to take this opportunity to talk about a delicious new flour I discovered at the grocery store a few weeks ago. It is what I made the Pizza with. In my opinion it is simply too good to not share with you all. The Einkorn Flour from Jovial. Its flavor profile is so different from the wheat I am used to. It's different in a very good way. I haven't tried any breads with it yet, but it was phenomenal in this naan pizza. I did have to modify my recipe for the flour because the Einkorn flour was less thirsty than my regular flour, so I had to decrease the liquid content. If you are using your favorite flour, use my naan recipe for the base. If you are tempted to try the Einkorn Flour use the proportions given in this recipe.
The best news of Football Sunday was that Broncos won the game! Yay for #Football.And Denver. And Broncos.And the food.
Ingredients
For the sauce

10 oz tomato paste
1/2 tsp ground cumin
1/2 tsp ground coriander
1/2 tsp garlic powder
1 tsp hungarian paprika
1/2 tsp cayenne
Salt to taste
1/2 tsp olive oil
2-3 Tbs water

For the dough

500 gms Einkorn flour
2 tsp active dry Yeast
1 tbs sugar
1/2 tsp salt
1 tsp Baking powder
2 tbsp oil plus some for oiling the bowl
100 ml plain yogurt
100 ml warm milk
1 large egg
1/4 C warm water

Toppings

1 cup cubed paneer
1 Anaheim pepper cut into squares
1 small onion cut into squares
a few green onion greens
3 tbs yogurt
1 tsp lemon juice
1 tsp Tandoori spice mix
a pinch of garlic powder
a pinch of salt (if using home made tandoori spice mix or if the tandoori spice mix has no added salt)

Cheese

About a cup of your favorite melting cheese. I used Fontina and Parmesan. I simply love the combination with Tandoori Pizza.
Instructions
Make the dough

Add yeast to the warm water. Add in a pinch of sugar from the 1 tbs and reserve the rest. Stir to mix. Set aside for 5 minutes or until the yeast has dissolved and the mixture is frothy.
Sift the flour, salt and baking powder into the bowl of a stand mixer. Add the remaining sugar, the yeast mixture, the 2 tbs oil, the milk, the yogurt and egg. Mix with the paddle attachment until everything combines and a somewhat sticky dough is formed.
Allow to rest covered for 5 minutes and then knead with the dough hook until it looks shiny. It will still be somewhat sticky, but don't be tempted to add more flour.
Form into a ball and take it out of the bowl. Now brush the base of the bowl with some oil and place the dough in it. Cover the bowl with a piece of cling film and set aside in a warm, draught-free place for an hour or until the dough doubles.

Marinate the toppings

Mix all ingredients together and cover and set aside for an hour

Make the sauce

Put a pan on medium heat and add the olive oil. As soon as the pan is warm, add the cumin and coriander.
Stir and add the tomato paste and water. Mix and add cayenne and paprika powder and salt. Cook until everything blends together and starts to appear thick enough for pizza sauce. Allow to cool before using.

Assemble the Pizza

25 minutes before you are ready to bake, Pre-heat your oven to 500*F. Place a pizza stone in it to heat as well.
When the oven is heated, punch down the dough and divide into 6 equal balls.
Roll one ball at a time, into a circle or hand toss them to resemble a pizza shape, at least 6 inches in circumference. Roll out more for a thinner crust.
I usually put these on a baking sheet to allow for fuss free pizza cooking, but if you are comfortable using a pizza peel, go ahead and do that.
Now spread the tomato sauce on the rolled out dough, add the cheese and bake for 5 minutes.
Then bring it out, add a generous amount of toppings and bake for another 5- 8 minutes until the toppings are cooked through and the base is nicely browned. Top it with the green onion greens.
Repeat for the rest of the dough and toppings.
Enjoy with cold Ale.
Notes
This recipe makes 6 small pizzas. You can scale it down or refrigerate the dough if you don't plan on making all those pizzas.
http://dev.spiceroots.com/tandoori-paneer-pizza/