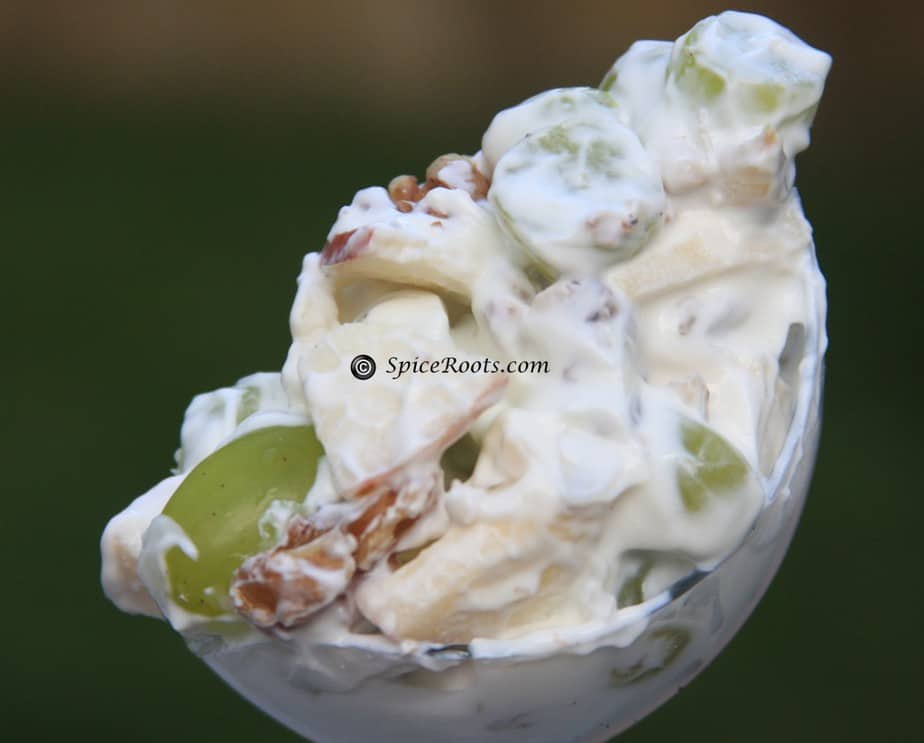 A twist on the traditional waldorf salad, this low fat waldorf Salad  recipe came into existence because of my daughter. She is a great kid, eats all her veggies and celery too. But for no apparent reason she would not eat a waldorf salad if it had celery.  Waldorf salad is a quick fix lunch/ salad for me and I am not giving up all things easy. So guess what!  Out goes the celery and out goes the mayo and all the fat along with it. This is a delightful salad to serve your vegetarian friends and also the friends who stay away from too many fat calories.
Add the celery if you want to, but we like ours well without it.
Ingredients:
1 apple
7-8  walnuts/pecans or a combination of the two
15 seedless grapes cut in halves
A smidgen of salt
A dash of honey
1 C  Low fat Greek yogurt ( vanilla flavored yogurt tastes good too)
1/2 tsp of lemon juice mixed in a bowl of cold water
Procedure
Core the apple and cut into thin slices. Then cut the slices in ½ inch pieces. Put the cut apples in the bowl of water. This step ensures the cut apple does not turn color.
Chop the walnuts/pecans into small pieces
Now just bring it all together – whisk the yogurt, add the salt and honey. Whisk again.
Add the apples and the grapes and the walnuts and serve! Or don't 😉 I can finish off  a couple of servings all by myself.