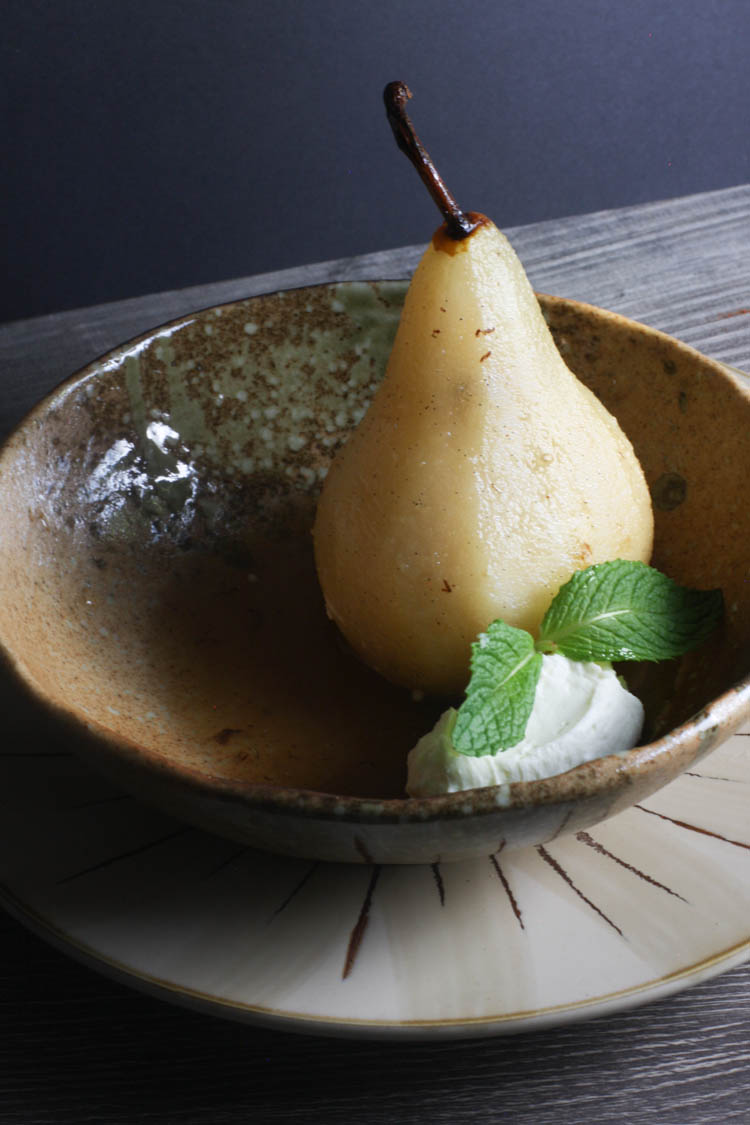 The white wine poached pears with lemon mascarpone cheese have been a lot on my mind lately. That the winter pears have almost disappeared from the stores could be one of the reasons or the fact that this fall and winter I didn't buy as many pears as I normally do.  I make poached pears a few times in fall because I can not resist buying them by the dozens when they first hit the market. Once I get them home and can't eat them all before they over ripen, I poach them and leave them in the fridge to have an elegant dessert ready for the next few days. But this year was different and so I had to make some before the spring time fruits hit the markets.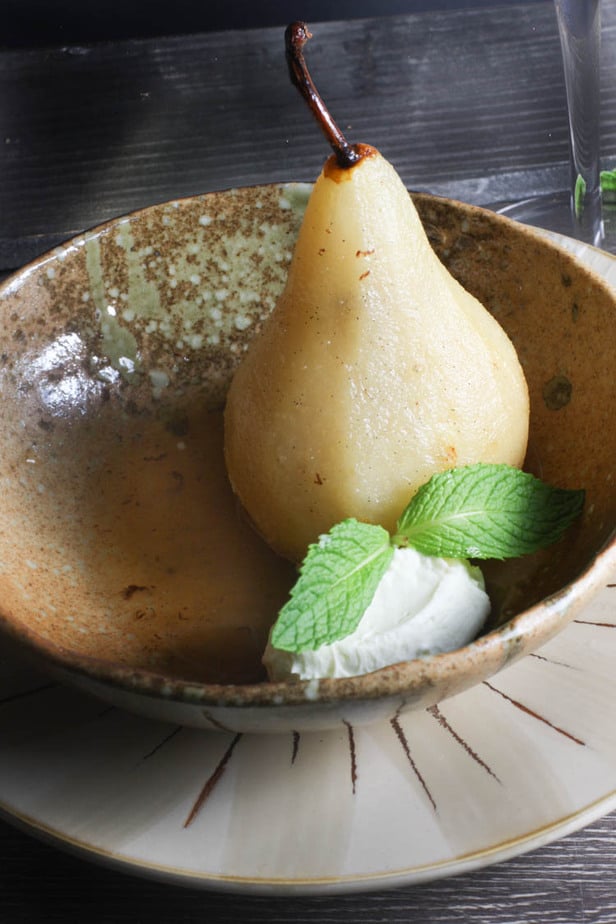 Any fruit poached in wine is great but white wine poached pears are my favorite.Crisp flavors from the wine paired with the sweetness of the pears is simply divine. And the best part? They are really easy to make but they look incredibly fancy. And they are perfect as a make ahead dessert because the longer you leave them in their poaching liquid the better flavors they absorb. It is a win win on all counts.
This is my simple and easy contribution to our Progressive Eats dinner party. So, Welcome to Progressive Eats, our virtual version of a Progressive Dinner Party. This month's theme is Wine and Cheese and is hosted by Jenni Field, who blogs at Pastry Chef Online. For our Wine and Cheese Theme, everyone has made a recipe that contains wine, cheese or both. We have some sweets for you, some savories and even a refreshing wine-based beverage!
If you're unfamiliar with the concept, a progressive dinner involves going from house to house, enjoying a different course at each location. With Progressive Eats, a theme is chosen each month, members share recipes suitable for a delicious meal or party, and you can hop from blog to blog to check them out.
We have a core group of 12 bloggers, but we will always need substitutes and if there is enough interest would consider additional groups. To see our upcoming themes and how you can participate, please check out the schedule at Creative Culinary or contact Barb for more information.

Savories
Sweets
Bonus Beverage
White Wine Poached Pears with Lemon Mascarpone
Ingredients
1 C White wine ( Sauvignon Blanc - New Zealand )
1 C Filtered water
1/4 C sugar
1 vanilla bean, slit in the middle
2 Bosc pears
2 Tbs Mascarpone cheese
1/2 tsp lemon juice
Instructions
Take a medium pot and add the wine, water, sugar and vanilla bean.
Bring it up to a simmer on medium heat and allow to simmer for a couple of minutes.
While the water is coming up to simmer, peel and core the pears, leaving the stem intact.
Drop the pears into the pot and immediately give them a good swirl to coat all sides of pears with the liquid.
Cook for a few minutes until the pears are soft but still holding their shape. If you insert a small knife into the pear, it should go through without any resistance.
Take the pears out of the cooking liquid and reduce the liquid until thick and about half of what you started with.
Allow to cool, then put the pears back into this liquid and refrigerate for a few hours or upto 3 days.
When you are ready to serve, mix the mascarpone with the lemon juice and serve a little dollop with the pears along with some liquid.
Notes
I like a fruit forward, young new world wine for poaching pears. My favorite is the Sauvignon Blanc from New Zealand. There is no sugar in the mascarpone. The lemon and cheese combo pairs perfectly with the sweet pear.
http://dev.spiceroots.com/white-wine-poached-pears-with-lemon-mascarpone/